Next UK Prime Minister Betting Odds
Boris Johnson is now the overwhelming favourite to be the next UK Prime Minister after topping the ballot in the first round of voting in the Tory leadership race, with Jeremy Hunt and Michael Gove in 2nd and 3rd respectively. We take a look at the latest betting in the battle for number 10 Downing Street.
| By: Diarmuid Nolan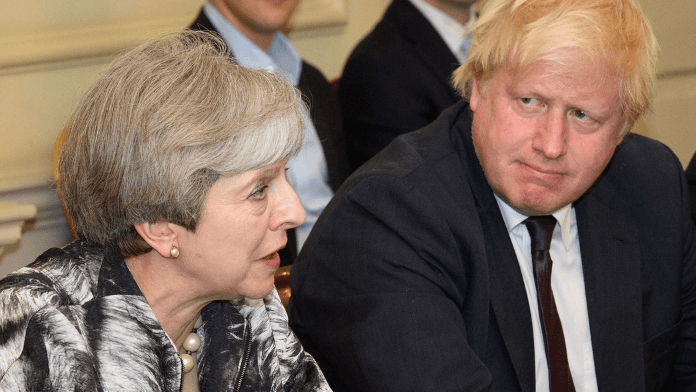 Next UK Prime Minister Odds:
| Tip | Odds | Bet with |
| --- | --- | --- |
| Boris Johnson to be the next Prime Minister | 1/5 | Ladbrokes |
| Jeremy Hunt to be the next Prime Minister | 7/1 | 888Sport |
| Rory Stewart to be the next Prime Minister | 16/1 | BetHard |
| Michael Gove to be the next Prime Minister | 20/1 | Coral |
| Dominic Raab to be the next Prime Minister | 40/1 | BetHard |
Brexit has dominated the headlines in 2019 and a weary public is struggling to keep pace with the shifting political tides in Westminster. A poor showing in the European elections has further damaged the Tories grip on the government, so the news of Theresa May stepping down was not overly surprising.
The PM had been struggling to get her Brexit deal through and the lack of support from her own party coupled with an opposition in open revolt means her position was untenable. The country is divided over Brexit, and an election, or even eventually a second referendum may pave the way for some much-needed clarity. The top betting sites are offering odds on when the election or second referendum could happen as well as the likely contenders to assume power in Westminster.
Theresa May's resignation means a new leadership contest is now underway. There is now a major leadership gap for both party and country that must be filled fast to calm the current political turbulence.
---
Love betting on politics? Take advantage of a free bet offer for your next political punt!
---
UK Politics Betting Tips
This topic provides a wide range of odds and markets for anyone following political betting. Another election is not looking overly likely in the coming months after another disastrous election for Corbyn and Labour, but the hugely uncertain political climate in the country means that it's very hard to predict what may be on the horizon. You can place bets on who will be the next PM, new party leaders, overall majority and who will win the most seats in parliament amongst other markets.
The snap UK general election of 2017 took many by surprise. The next one is unlikely to catch anyone off guard as the undercurrent of discontent in the House of Commons has been rumbling for months now. May retiring, the Brexit Party coming from nowhere to do very well in the European elections, and Brexit in general has proven just how volatile political betting can be so while not for the faint-hearted, great odds and promotions can be found. Let's look at some candidates who may offer some interesting odds.
Sajid Javid and Matthew Hancock are in the race to be the next Conservative leader and Prime Minister, but it is hard to look past the below five as the main contenders. Whatever happens, it promises to be another eventful and historic year in British politics.
Boris Johnson Next UK Prime Minister Odds
Boris loves the media and the media love him and he is firmly in pole position to be the next leader of the Conservative Party. He is perfect for soundbites, but his public persona often masks an intense political ambition that has seen him rise to the top. He had been known to regularly dance around questions over his ambitions, but has now made it very clear publicly that the top job is the one he wants. His detractors feel he wants it too much and that he is guilty of placing his personal ambition ahead of the national interest.
Simply put, Bojo is a divisive character and things could still go either way for him. But he is also a savvy political operator and understands Tories and British politics very well, so it's easy to see why he is an early front-runner in the voting. His colourful personality has always helped him in the past and many were reluctant to face him in a race for the leadership.
At the moment he looks very hard to beat and his odds reflect this.
Boris Johnson to be the next Prime Minister (1/5 with Ladbrokes)
Jeremy Hunt Next UK Prime Minister Odds
Foreign Secretary Jeremy Hunt has a massive chance of making it to the final two against Boris Johnson, with him looking at this juncture at least, as clear second choice behind Boris Johnson.
Mr Hunt was originally thought to be behind the likes of Michael Gove and Dominic Raab according to the odds as recent as 2 weeks ago, but he is clearly more popular within party ranks than originally thought.
Another somewhat divisive character, but his popularity might well make this more of a race than it looks at the moment. He will need the "anyone but Boris" party votes to go his way.
Jeremy Hunt to be the next Prime Minister (7/1 with 888Sport)
Rory Stewart Next UK Prime Minister Odds
Rory Stewart would have been viewed as a "no-hoper" by some, but savvy online videos and some empowering speeches has catapulted him to 3rd favourite, albeit he still faces an uphill task to catch Boris Johnson.
He boasts an impressive CV being a former diplomat and Harvard lecturer, and he appears to be appealing to the softer Brexit voters in the party.
He has taken to the streets of Britain and posted social media videos of his chats with voters, and these discussions appear to be going down very well with a considerable section of the public.
He currently holds the international development secretary position having only rather recently joined the cabinet but is starting to amass centrist support for his bid. He has won the initial backing of the popular Ken Clarke, the former chancellor, and even Brian Cox, the scientist.
Rory Stewart to be the next Prime Minister (18/1 with BetHard)
Michael Gove Next UK Prime Minister Odds
The current Environment Secretary looked a solid contender to succeed May with some bookies offering as short as 4/1 only a few weeks previous to now. The fact that he is the former Vote Leave co-leader won't endear him to those who wish to remain, but he is one the favourites to become the new Tory leader. He ran against May for the leadership in 2016, but failed and it seemed his chances were gone.
But he has enjoyed an impressive recovery as Environment Secretary and won friends among MPs, so he has got some good political collateral now and strengthened his overall position. His famously flamboyant speeches demonstrate what sort of leader he could be and his odds for the top job have shortened continuously.
He seems to be making a conscientious play to try to reunite the party after his statement that he will allow EU nationals living in the UK at the time of the referendum to apply free of charge for citizenship if he becomes PM.
Seems to have lost out on the strong leave votes to Boris Johnson and whilst he still has his chance, it's looking a slim one.
Michael Gove to be the next Prime Minister (20/1 with Coral)
Dominic Raab Next UK Prime Minister Odds
The odds about Dominic Raab continue to drift, as at one point he was as short as 15/4, whilst now he sites at 40/1.
The former Brexit Secretary confirmed his bid and for a long period was rated second best in the political betting behind the favourite Boris Johnson.
Dominic Raab is yet another divisive character, but he would have the backing of the pro Brexit brigade in the Tories. He became Brexit Secretary after David Davis stepped down, but for one reason or another his questionable handling of those negotiations doesn't seem to have stalled his popularity from within party ranks.
In November 2018, following his resignation from the role over a proposed deal on the UK's departure from the European Union, Raab became the bookmakers' second favourite to be new leader.
Looks to need a miracle to turn this around after a very tardy start in the leadership voting.
Dominic Raab to be the next Prime Minister (40/1 with BetHard)
---