Can Manchester City Win the Quadruple? Here's the Odds
After ruthlessly and somewhat easily winning the domestic treble in 2018/19, the powerhouse Manchester City will turn their attention to a potential quadruple in 2019/20. We take a look at the best odds available about the blue side of Manchester dominating once again.
| By: Matthew Glazier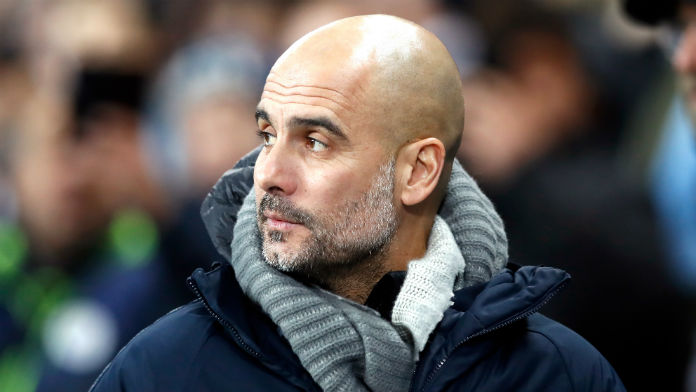 QUICK TIPS:
| Tip | Odds | Bet with |
| --- | --- | --- |
| Man City to win the Quadruple in 2019/2020 | 80/1 | Bet365 |
| Man City to win the 2019/20 Premier League, FA Cup & Champions League | 30/1 | Paddy Power |
| Man City to win the 2019/20 Premier League, FA Cup & League Cup | 16/1 | Paddy Power |
| Man City to win the FA Cup & League Cup | 9/1 | Bet365 |
| Man City to win the Champions League | 4/1 | 888Sport |
---
Before Manchester City even kicked a ball in earnest, the top betting sites were running to take cover from punters wanting to back the champions of England to land an unprecedented quadruple during the 2019/20 season.
Pep Guardiola has completely transformed the fortunes of the Citizens since taking charge at the north-west giant three years ago, with the Spaniard having already won five trophies with City and that's not including two Community Shield triumphs!
Last season, Manchester City were competing hard on all fronts before eventually falling short in the Champions League although they were able to bag a domestic treble and the bookies have already been taking bets that they go one better for the 2019/20 campaign.
Bookies Cut the Odds on a Manchester City Quad
Bet365 initially quoted 100/1 that Pep would land an amazing quadruple over the next nine months, although that has been cut to 80/1 with Bet365 and 66/1 with Paddy Power over the summer, with customers expecting Manchester City to be a major force in England and Europe this season.
Guardiola has quietly gone about his transfer business at the Etihad Stadium, with Rodri an early summer acquisition and the £62.8 million Spaniard is expected to add steel to the midfield area, especially as Fernandinho is now entering the twilight of his career.
Zach Steffen and Angelino are only expected to be squad players at the north-west outfit, although Joao Cancelo was a late capture from Juventus and the £60 million signing will surely prove to be a versatile squad member who can operate as a right-back or a right winger.
Manchester City also have a fully fit Kevin de Bruyne to start the campaign and customers are looking to get some bets down on the quad at fancy prices, knowing full well that a fast start to the season from this team will see the bookmakers cut their prices further.
Can City Finally Conquer Europe?
Pep Guardiola sarcastically describes himself as a "failure in Europe" although the 48-year-old has failed to steer Manchester City beyond the quarterfinal stage of the Champions League during his three seasons at the club.
While rivals Liverpool have reached the final of the past two renewals, beating Tottenham Hotspur in the 2019 final to claim their sixth European Cup success, the Sky Blues have been floundering on the continent and it's a situation that the manager will be ultra-keen to address.
At various points during the past twenty-four months, Manchester City have looked like the best side in Europe. They play a slick brand of passing football and are clearly capable of annihilating the best teams in England, Spain and Italy. However, the team have always come a cropper in the Champions League knockout stages and the latest example was against Spurs last term.
Guardiola deployed fairly negative tactics at White Hart Lane before a topsy-turvy second leg against Tottenham saw the Citizens have a goal chalked off after a VAR review which allowed their north London opponents to reach the final four of the competition.
As was the case twelve months ago, Manchester City start the season as outright favourites to win the Champions League, although odds of 4/1 with 888Sport illustrate that this is a wide open renewal and they might have to overcome any number of teams to finally claim this holy grail. Barcelona, Liverpool, Real Madrid, PSG and Juventus are just five stubborn opponents in waiting.
Manchester City 16/1 to Retain Domestic Treble
Despite stumbling around in Europe for the past three seasons, Guardiola has experienced no such problems when it has come to domestic cup competitions, with the Spaniard having steered his team to consecutive League Cup successes at Wembley, while City also battered Watford 6-0 in last season's FA Cup final.
That meant Manchester City were celebrating a rare domestic treble and Paddy Power have them at 16/1 that they're once again parading those three trophies on an open-top bus celebration come the end of the campaign, with a legacy starting to be laid down.
Naturally, Pep's team are favourites to win all three competitions, with the Redzone going no bigger than 1/2 that the Citizens claim the Premier League title, while the club are trading at 4/1 with BetHard when it comes to the FA Cup and also 4/1 with Betway for the League Cup.
Remaining champions of England is clearly a priority for Guardiola as the team look to secure a consecutive hat-trick of Premier League crowns, with the domestic cup competitions seeing the manager field weakened sides for the earlier rounds of the competition, although the fringe players at the club can still be more than a match for most opponents.
Can Liverpool Prove a Stumbling Block?
Pep Guardiola isn't the only manager looking to create a dynasty in English football. Jurgen Klopp is also trying to mastermind a multiple trophy haul at Anfield and the German's stock increased last June when Liverpool were able to claim a sixth European Cup success when beating Spurs in the 2019 Champions League final.
The Reds were also breathing down the necks of Manchester City when it came to the Premier League title race, recording 97 points to finish just one behind the eventual champions, with Klopp ruing the fact that his team's rivals came out on top as far as the head-to-head record was concerned.
The bookmakers once again regard this season's Premier League title race as a two-horse one and the expectation levels on Merseyside are ridiculously high despite a severe lack of recruitment from the Fenway Sports Group who presumably think that the squad is capable of performing to similar levels this time around.
If Liverpool are able to find marginal improvement domestically and potentially challenge harder in the cup competitions, it certainly reduces Manchester City's chances of getting over the line on all four fronts.
Manchester City "Virtually Certain" to Win Silverware
With City trading as favourites to win all four competitions next season, it indicates that the chances of them lifting at least one trophy is heavily likely. That is reflected in the 1/3 with bet365 that the north-west outfit are successful on at least one front when all is said and done by the end of the campaign.
It doesn't matter which piece of silverware they secure or indeed whether they record multiple successes, providing that Manchester City have at least one trophy in the bag, then this bet will pay out.
Conversely, for those who think Liverpool might overhaul them in the Premier League, you can get 9/4 with Bet365 that City don't win a major trophy this season. It's quite clear that Guardiola's side are less likely to triumph in the Champions League than lift "Big Ears" in May, while the domestic cups often depend on the draw.
Guardiola's Team 9/1 for Domestic Cup Double
The recruitment of Rodri and Cancelo during the summer was particularly notable considering that neither are going to be guaranteed starters at the Etihad Stadium despite the club shelling out princely sums to acquire their signatures.
Rodri might play second fiddle to Fernandinho for the most part, while Cancelo could be waiting behind Kyle Walker to shine as a right-back, although we're sure to see them feature prominently in the FA Cup and EFL Cup if they're starved of game time during the Premier League campaign.
Indeed, we've seen players like Phil Foden, Riyad Mahrez and Leroy Sane produce storming performances in the domestic cups before, with bet365 offering 12/1 that Manchester City lift the FA Cup and EFL Cup before the season is out.
The great advantage City have in the EFL is that, like other teams in Europe, they only enter the competition at the third round stage. That means they're only a few games away from making the final and several Premier League sides might have fallen by the wayside before they even start in this competition. 9/1 with Paddy Power for the domestic treble could be very interesting indeed.
However, it might be the case that Chelsea, Arsenal, Manchester United and Tottenham are all competitive in the FA Cup and EFL Cup this season, with their respective managers wanting to have something to shout about, especially if their team is failing to make an impact in the Premier League title race.
City Trading at Single Figures to Win EPL and UCL
While winning silverware is a nice habit to get into, Manchester City will not be distinctly remembered for lifting the FA Cup or EFL Cup on a season-to-season basis considering this merely involves beating a handful of English opponents who may or may not be particularly formidable. You only have to remember last season's two-legged semi-final against Burton Albion to remember that.
Every season, the main two targets remain the same. Win the Premier League to actually maintain that stature as the best team in England along with challenging hard in Europe to truly go down in history as one of the best outfits that have ever graced a football pitch.
Guardiola will be acutely aware of his European failings to date and Bet365 offer 15/2 that the Spaniard finally gets things right in the Champions League while also being able to steer the team to a successful title defence and land that consecutive hat-trick.
It will be a precise balancing act to challenge hard on these two fronts although Liverpool almost provided a blueprint last season by winning the Champions League title while also accruing 97 points when finishing runners-up in the Premier League.
---