Could Aston Villa Be The New Leicester City?
Bookies are being forced to slash Villa's titles odds after every passing win, but do they really have what it takes to mimic what Leicester did in 2016?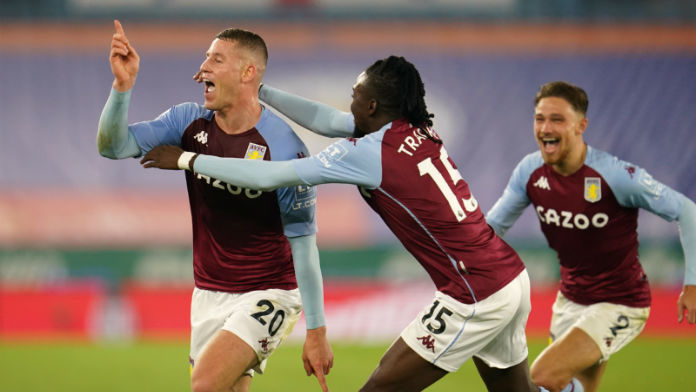 Although bookmakers still rate Aston Villa as major outsiders for the Premier League title at 66/1, the fact that they were 500/1 before a ball had been kicked is a measure of just how surprising their four-game winning streak has been.
It's the first time in 90 years that Villa have opened a season in the top flight with four straight victories – they went on to finish the 1930/31 season in second place – and it has punters wondering if they could mimic Leicester's famous title-win of 2015/16.
The Foxes, who succumbed to a 1-0 defeat to Villa on Sunday, made headlines the world over for their logic-defying title success, overcoming odds of 5,000/1 to finish top of the table with 10 points to spare.
That season has since been dismissed as a one-off, but with every passing week in this year's Premier League campaign the prospect of another surprise winner at the end of all the mayhem seems more and more realistic.
Injury to Virgil van Dijk has weakened Liverpool's chances of defending their title – they're out to 9/4 – while favourites Manchester City are only priced at 5/6 having already shown some of the vulnerabilities which saw them fall well off the pace last term.
Any winner other than City or Liverpool would be somewhat of a surprise, but Tottenham, Everton and Villa are all shorter prices than they were before the opening day of the season – a telling sign.
There is, of course, a long way to go, and without wanting to resort to the age-old phrase of 'it's a marathon not a sprint', former Villa and Leicester striker Emile Heskey has warned Villa fans not to expect a title challenge despite their rampant start.
"The thing is, you've got to crawl before you can walk and walk before you can run," the former England international told bookmakers.co.uk.
"For Villa, it's a wonderful start but even if they continue this form for now we'll have to see how they fare when it comes to the really testing periods of the season, Christmas and New Year for example."
Barkley Impact
Ross Barkley has hit the ground running with two goals in two games since his loan signing from Chelsea and Heskey believes the team's captain and talisman Jack Grealish is finally benefitting from the players around him operating at a level closer to his ability.
He said: "It's not just Barkley who is breathing life into Aston Villa but, certainly, having him in the side has been an added bonus. He's working so well with John McGinn and Grealish, it's almost like a new career for Barkley.
"With Grealish, we're talking about someone we've all known for some time that he has serious ability, but he's needed other people around him to step up to the plate and that's what we're getting now.
"When you look at what they're doing, their achieving some wonderful things – it's not easy to win four Premier League games in a row, never mind the first four of the season, especially when you're coming off the back of a season that wasn't particularly great.
"Yes, they had a great escape last year, but the actual season as a whole was pretty poor, but now in this new season it looks like they've got a new lease of life.
---
🏆 Will we see a title winner other than Man City or Liverpool this season? ⚽️

#PL#LFC#MCFC

— Bookmakers.co.uk (@bookmakers) October 19, 2020
---
"It's funny, because when you ask yourself where this life has come from, usually you'd be able to point to a new signing but other than Barkley it's more or less the same team of key players.
"They've still got Trezeguet in there, Grealish of course, McGinn and Tyrone Mings. The team is still made up of all these players, so what has been the difference this season? I still haven't been able to put my finger on it."
Since putting seven goals past Liverpool, much of the attention has been on Villa's new-improved attack with Ollie Watkins bagging a hat-trick against the champions, but at the back they've kept consecutive clean sheets away from home having failed to keep any last season.
Heskey believes the basis of a good defence was always evident at Villa ever since Dean Smith brought them up from the Championship and the manager is finally reaping the benefits of sticking with the same personnel.
"The foundation of the defence was already there from the first season they came up," said Heskey. "It was fairly solid, they just lacked goals up front. But having the ability to keep clean sheets now is so important, it's half the job done in any match and I think that's what they've built upon."
Leicester Stuttering
Leicester were without star striker Jamie Vardy in the 1-0 defeat to Villa and Heskey, who began his career at the Foxes, believes Brendan Rodgers' side become too easy to read when last season's top scorer is unavailable.
"Rodgers has stipulated that he would love to add firepower up front because without Jamie Vardy, who a lot of Leicester's game centres around, they do become a little bit too predictable and they're clearly not as strong without him," said Heskey.
The absence of Vardy saw forgotten man Islam Slimani come off the bench for below-par Kelechi Iheanacho in what was the Algerian's first Leicester appearance since January 2018.
Vardy is expected to return against Arsenal next weekend but while lingering doubts remain, Heskey believes it could be an opportunity for the big striker to revitalise his Leicester career.
"He's got ability. When they first bought him I thought he was a perfect fit because he's a forward who likes to chase lost causes and works really hard, and that's what we like at Leicester.
"We like people who are willing to put themselves about, who are going to put in the hard graft. But with the way Brendan has changed the philosophy and the way some of the players play, you need a little more than hard work at times.
"But he might have an opportunity now with Vardy being out and Iheanacho not necessarily grasping his chance with both hands. It's definitely a chance for Slimani to get back into the good books."
Meanwhile, at the other end of the pitch, Rodgers has been dealt a serious blow with the news that centre-half Caglar Soyuncu could be out for up to three months with an abductor tear, an injury Heskey fears could be very costly.
"That's going to be a huge miss for Leicester. We talk about players who have an influence, are at the heart of everything that goes well for teams when they're in form, and he's one of them for Leicester.
"Jonny Evans is a solid defender but without Soyuncu he's not the same player, if I'm honest, because he brings the best out of Evans and helps him out in areas where he has a deficit.
"It will be interesting to see how that pans out, although Wesley Fofana did play well in his absence against Villa I thought, so hopefully he's a decent replacement."
Despite beating title favourites Man City 5-2 at the Etihad earlier this season, Leicester's title odds have inflated all the way out to 100/1 since the tame manner of their defeat to Villa. Rodgers, it seems, has his work cut out if Leicester are to mount another unlikely title charge.